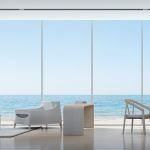 If you think owning a condo hotel and a timeshare is the same thing, then think again. As a timeshare owner, you have permission to use the property, but you don't have deeded ownership like you do when you own a condo hotel.
Condo Hotel or Timeshare?
You may be asking yourself, why is it better for me to own a condo hotel versus owning a timeshare property?
Most people are familiar with the term "timeshare," but not a lot of people are familiar with the term "condo hotel." A timeshare is a vacation property that allows you to have ownership of time at the property, while a condo hotel allows you to have either complete ownership or fractional ownership of the property. Even though both allow a type of ownership, there are some important differences that will significantly influence your decision as to whether you want to buy a timeshare or invest in property at a condo hotel.
A variety of options are available for the modern vacationer because of the growing preference for condo hotels. And now, all you have to do is decide which type of vacation property will best suit for vacation needs. The following information on the differences between condo hotels and timeshares should help you make a better decision on which type is best for you.
Condo Hotel or Timeshare Usage
Timeshare ownership is the ownership of specific times of the year to use a specific property or collection of resort properties. There's nothing wrong with this as long as your work schedule coincides with your vacation time allotments. If not, you will have to take some considerable time trying to trade in your time through the timeshare network.
When you buy full ownership at a condo hotel, you set your own schedule. Your work schedule can change, and you will be able to get access to your property regardless without having to check to see if it's reserved by someone else. A bonus is the ability to rent your condo during the seasons when you are not there, which will help you with the cost of the condo (because they will share the rental fee for the time they are there). Fractional ownership at a condo hotel will mean that you can visit your property during your allocated times.
The concept of "floating time" when it comes to owning a timeshare is not the same as the flexibility of condo hotel ownership. You may not have a set timeshare schedule, but you will compete with other owners of the timeshare to reserve the dates you want. So, this means the timeshare may not always be available when you need it.
In contrast, with a condo hotel, you don't have to worry about competing owners for time use of the property because you are the sole owner of the property. There is no competition with others because you can visit your place at any time and rent the property out only when you know you will not be there. This means you will always have the first opportunity to select specific dates.
Resale value
Most people agree that the value of a timeshare decreases when you sell it because you won't be able to sell it for the price you paid for it. Most people will agree that owning timeshares may not be the best types of real estate to invest in if you are trying to get properties that appreciate over time. However, since condo hotels are an actual residential property, the value of these will most like appreciate over time instead of depreciate. Purchasing a condo hotel means you are getting an actual property and not just buying time to use a property shared with other owners.
In all cases, whether purchasing a timeshare, fractional or full ownership at a condo hotel, you should read our contract carefully.
Ref.:http://searchwarp.com/swa50023.htm