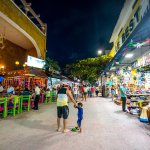 Paying cash in the forms of notes and coins is still the most popular way of purchasing whatever you need in Mexico rather than by credit card or debit cards.  Despite modern times where utilizing credit cards or debits cards and even internet banking is preferred by some, the majority of people in Mexico still opt to dig on their pockets for hard earned cash in exchange for goods and services.
Mexico tips – Paying by Credit Card
So, is it possible to use credit or debit cards in Mexico. The working class which comprises the majority of the population still relies on cash, rather than credit cards.  Although cashless transactions through the use of plastic cards are beginning to hold their grounds, these are still attached to the upper social classes who find it faster and more convenient.  The fact that most of the households are not bank account holders, cash dominates the nation's trading activities. Studies made by the Bank of Mexico even affirm that majority of those having debit cards would rather withdraw cash and use it for payment than directly handing it for an electronic deduction on purchases made. This solidifies the use of cash being the most widely accepted form of payment in Mexico.
Mexico tips – Getting around without cash in Mexico
All major establishments and points of trading have begun turning to cashless payments.  You can visit the malls, department stores, furniture shops, food stalls, novelty shops and any other places selling goods; all of which accept credit cards or debit cards, while others have access to smartphone payments.  Even those that offer touring, travel tours, medical jobs and other professional services which likely caters to the upper classes also do the same. Mobile phone holders also enjoy the services of adding up to their prepay balance simply by doing it online, through their phone or credit/debit cards.
Mexico tips – Goods and services strictly for cash only
Just like in many countries, personal services rendered mostly by manual workers only accept cash, and nothing else.  Small shops and good stores found in streets don't have credit card swiping machine, therefore be sure to stock up some cash should you choose to make your occasional purchase with them.  Street workers can be found all around Mexico like those selling ready to eat food in little stalls, shoe-shine boys, ambulant vendors, newspaper sellers, cab drivers, market vendors and others. If you need some home repairs or garden beautification…plumbers, gardeners and home maids know only one form of payment – cash.
Mexico tips – Buying souvenirs
Local souvenir stores offering great Mexican goodies mostly accept cash only. Street traders abound in every nook and corner, and remember to have Mexican paper currency and coins in exchange for worthy souvenir items.
Mexico tips – Tipping
To show your appreciation for great service, tips coming from you will be expected. This is done through Mexican cash only.  If you happen to be in Mexico through a tour package, there will always be instances when cash is needed.  It can be dining in some simple restaurants or taking a cab to reach your next shopping destination.
Reference: https://www.mexperience.com/cash-please/