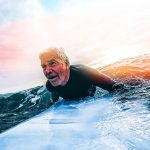 Retirees and expats who are thinking of relocating to Mexico may be interested to read about the discounts and benefits for over 60s in Mexico. This charming and beautiful country is a great choice if your retirement funds have left you with a tight budget. With the cost living considerably lower than that of Canada, Europe, or the United States, Mexico makes an ideal choice for retirement.
Discounts and Benefits for Over 60s in Mexico
The discounts and benefits for people over 60s in Mexico also extends to foreign residents. You will become eligible for discounts on a host of goods and services when you have acquired your resident visa and enrolled with the Instituto Nacional para las Personas Adultas Mayores (INAPAM). The over 60s in Mexico can stretch their retirement money even further by presenting this discount card at a variety of venues. What's more, the discount card is easy to apply for and is yours for free!
Countless businesses in Mexico accept this discount card for the over 60s, giving you more services and benefits to enjoy. Here is a sample list of what your INAPAM card can offer:
Grocery Shopping and supermarkets
Use your card to save big on your grocery shopping at convenience stores, and major grocery chains. There is no harm in asking if there are discounts.
Medicines and Healthcare
Healthcare in Mexico costs less compared to other countries like the U.S. Your card can provide even more savings through additional discounts available to seniors at many drugstores. Card-holders are may also be entitled to receive discounts from doctors, dentists, and other medical specialists.
Art and Culture
Are you fond of going to museums, art galleries, or archaeology parks? Are you fond of purchasing books? The over 60s in Mexico can enjoy great discounts at cultural venues and stores.
Travel and Leisure
As seniors, you will find that many travel agencies and hotels throughout Mexico offer discounts for customers who are over 60. Long distance buses certainly offer discounts.
Getting Around
Several local bus companies, airlines, and sometimes local taxis offer discounts to seniors who own this card.
Predial discounts
Your annual property taxes (Predial) and your water bill can have a lower cost if you present your senior discount. (Discounts on water bills are only available in some municipalities.)
Other Benefits
Always present your card and ask for available discounts whenever you transact business or avail of services. There may be a variation between businesses, but most of these business types offer discounts: legal firms, construction companies, accountants, hardware stores, locksmiths, electrician, car service, plumbers, repair centers, dry cleaners, printers, florists, art stores, jewelry shops, beauty salons, clothing stores, veterinary services and so much more!