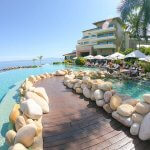 Many people across the world dream of owning a second home somewhere warm and lively like Puerto Vallarta, but plenty of people are put off of the prospect by the extra commitment, responsibility, and financial stress that can come along with it. This is why Garza Blanca signature residences in Puerto Vallarta are such an attractive prospect for most people; they make the whole experience easier when it comes to real estate in Puerto Vallarta.
Putting the ease into real estate in Puerto Vallarta
What really sets a Garza Blanca luxury residence apart from the average holiday home is just how easy the Garza Blanca team make the whole experience! The Garza Blanca Preserve in Puerto Vallarta is a private swathe of land with 24 hour gated security, an on-site maintenance team, and concierge services; you never have to worry about your investment! The team can also aid you in setting up rentals if you decide to make a little money from your holiday home; Garza Blanca put the ease in real estate in Puerto Vallarta!
Peace of mind in Puerto Vallarta
What you really want from a real estate purchase in Puerto Vallarta is peace of mind, and a Garza Blanca signature residence can offer this. You see when you buy real estate with a high-end resort like Garza Blanca you are buying a range of benefits as well as a quality property. Your homeowners association fees cover contracting services like gas, water, and electricity, as well as pool maintenance, gardening, security, and furniture replacement in common areas, too. Furthermore, if you're a fractional owner these fees will cover your utilities; this is the easiest way to enjoy a vacation home.
A safe investment
Finally, what we feel really makes homeownership with the Garza Blanca in Puerto Vallarta stellar is the experience and high reputation which the brand enjoys. You're not just getting a home, you see, you're joining a large, competent, and caring family which is at the very forefront of the hospitality industry today. There are few sets of hands safer than these for your investment.
What do you think about real estate in Puerto Vallarta? Add your comments here.