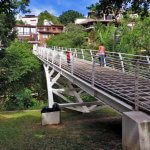 Isla Cuale, found in the middle of Rio Cuale, is one of the best kept secrets in Puerto Vallarta; a little islet which can be reached by bridge at the north and south sides. This is a green haven, an oasis in the concrete heart of the Puerto Vallarta;
Puerto Vallarta's Hidden Island – La Isla Cuale
There are two wooden hanging bridges which are of great interest to the local children in Puerto Vallarta, but that's not all that Isla Cuale has to offer! Almost half a century ago this islet was considered for a play area for the towns children, and since then it has become an area for leisure and relaxation. At the inland-most point of the island you will find a small cultural center, but there are also restaurants, and even a small museum here to enjoy.
John Huston in Puerto Vallarta
One thing you might not expect to find on this island is a bronze statue of director John Houston, but this is exactly what you will find outside of the (now closed) Le Bistro Restaurant. This monument was placed to mark the quarter-century anniversary of the film which, arguably, put Puerto Vallarta on the international tourist map! Night of the Iguana was filmed on Mismaloyabeach and has been credited with the advent of Burton and Taylors love affair with the city and, indeed, each other.
River Estuary
If you want to find the archaeological museum on Isla Cuale you should head to the end of the island near the meeting point between the river and the sea. During the rainy season the water runs high and fast, but for the rest of the year you could stop here to watch the Pelicans frolic and the children play in the calm, shallow water.
Why not buy a popsicle from a passing vendor as you traverse the middle of the island and settle in the shade somewhere to soak up the (called a Paleta in Spanish) from a walking vendor and sit back relax and enjoy the best of Puerto Vallarta: the Isla Rio Cuale!