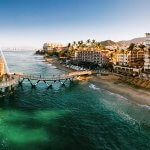 What can foreigners do when they relocate to Puerto Vallarta to become involved with the community whether it be full or part time? There are many different ways to make and adjust to the Puerto Vallarta lifestyles as there is something for every one of all ages. Continue to read to learn the variety of Puerto Vallarta lifestyles that you can enjoy.
Puerto Vallarta Beaches
On top of everyone's list should be the beach. Who doesn't love going to the beach? There are many different beaches in Puerto Vallarta where you can go jogging, walking, or just relaxing. The Puerto Vallarta beaches come with tidal pools and coves, and the waters are calm enough to allow you to go swimming or paddle surfing each morning. The beaches also have smaller sized waves, which is perfect if you want to learn how to boogie board, then there are beaches that have higher waves so if you are a surfer you can go surfing. The Puerto Vallarta beaches are never overcrowded, but just enough so you can meet new friends, and you can even find that some of the beaches are very quiet and laid back for relaxing too.
Puerto Vallarta's Farmers Market
The Puerto Vallarta's South Shore's Farmers Market is a great and fun place to go. From October thru May each Saturday from 9:30 am to 2:00pm you can enjoy a variety of vendors such as delicious foods, home baked jams and goods, jewelry, locally grown fruits and vegetables, and many other vendors. There is generally live music to listen to. The Puerto Vallarta's South Shore's Farmers Market is located next to the Los Muertos Beach at the Lazaro Cardenas Park. There is another Farmers Market in La Cruz de Huanacaxtle that is held on Sundays during peak season too. This particular Farmers Market is located on the ocean, which is beautiful. You will be able to do some great shopping as there are a variety of vendors along with food vendors and live music. This is the best time to eat fresh seafood because the seafood market is located right in the center of the La Cruz Sunday Farmers Market.
Get Involved in Charity
One great way to meet new friends is to join and volunteer with a charity. When you are giving back to the community by volunteering for a charity will create wonderful friendships and bonds. Are you wondering what type of charities there is in Puerto Vallarta? There are children's orphanages, homes for the aged, animal rescues, abused women organizations, young girls home, disabled children, and children of the dump. Each of these charities are always needing help and your heart will be warmed when you volunteer with one of these charities, and it will also give you time to meet new friends too.
Act II Entertainment Live Theater
If you enjoy live theater and you always wanted a chance to get involved, then now is the time. The Act II Entertainment live theater offers three venues each and every day, and they are located on the Insurgents Street and the corner of Basilio Badillo Street. Act II Entertainment is always wanting new talent to join them, so why not give them a shot. Boredom will leave you in the evenings as they provide three different venues to meet all needs, and it is affordable too. There is a piano bar at the theater where you can relax, meet new people, and enjoy a cold drink while you are in luxurious theater surroundings.
Go On Road Trips
Once you make the move to the Banderas Bay in Puerto Vallarta you will want to venture out. You should go on road trips where you can discover the cities, traditional towns, lakes, and all the beauty that there is outside of Puerto Vallarta.
Puerto Vallarta lifestyles await you. You can now become a part of the community when you get involved in one or more of the activities listed above.