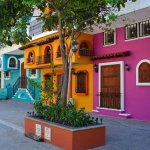 Across Mexico and the world, Puerto Vallarta is known as one of the top vacation destinations. Did you know that Puerto Vallarta was ranked by US News & World Report Magazine as the #9 top places in Mexico to visit? Puerto Vallarta has also scored very high and ranked very high with the following:
U.S. News & World Report Magazine Rankings: 
(9) Top Place to Visit in Mexico
(5) Best Spring Break Destination
(7) Best Beaches in Mexico
(8) Best Wedding Spot that's Affordable
On top of this, Puerto Vallarta is a fabulous place to live. Whether you want to start a new life, retire or simply spend your winters in the sun, Puerto Vallarta caters to all kinds of expats.
Why not live near Puerto Vallarta's Old Town?
Anywhere in Puerto Vallarta is a wonderful place to live, but Old Town is a fantastic area of Puerto Vallarta. You should consider moving near Puerto Vallarta's Old Town. Many people prefer to live close by rather than actually in the Old Town as it can get quite hectics. Much better to have easy access and escape when you need some peace and quiet.
Charming Shops and Cobblestone Streets in Puerto Vallarta's Old Town
Old Town has to be one of the best parts of Puerto Vallarta. Old Town is located just south of El Centro and it is also known as Zona Romantica. Old Town has some of the most beautiful beaches and coastline, and it still has its authentic Mexican appeal and charm of the small town that is rare to find in most of the touristy locations in Mexico. Walking on the cobblestone streets in Old Town Puerto Vallarta will allow you to view quaint shops and bakeries, and you can enjoy the best and delicious pastries that are made fresh daily.
Puerto Vallarta's Old Town is a great place to visit on Saturday mornings. There is an amazing Farmer's Market that provides visitors with fresh fruit, fresh vegetables, artisan crafts, beauty supplies, and unique jewelry. If you are wanting to get a massage, you can do it at the Farmer's Market as there is a chiropractor that is there to provide you with an adjustment if you want one. Around the corner you can go to the tortilla factory and eat tacos from the taco vendors that is there, and they also provide fresh seafood dishes such as aquachile and ceviche. You won't believe how delicious these dishes are.
If you enjoy the nightlife scene that is hip, then you will have plenty of choices with the bars, clubs, and lounges in Old Town or in El Centro or Olas Altas, which is the surrounding areas of Old Town. 
Old Town Culture and Heritage
The art galleries and architecture in Old Town Puerto Vallarta is outstanding. As you walk along the streets you may come across interesting properties or find a hidden jewel. You will not want to miss seeing the "Nuestra Senora de Guadalupe", which is the local church that is by the Plaza de armas. A beautiful crown was added to the church in 1965. Right across the street is the Los Arcos Amphitheater that also is a must see as the beauty is breathtaking. It is just a few steps from the church.
Old and New Mixture
There is something special that Old Town Puerto Vallarta has to offer than most of the cities in Mexico doesn't have. There is a mixture of old and new that provides Old Town Puerto Vallarta with a unique feel. The locals are very friendly and the handicrafts are truly authentic Mexican. The beaches are breathtaking and during the whale watching season that occurs from December thru March, visitors can see the humpback whales and the dolphins swimming around. Along the Malecon boardwalk there are vendors selling fresh coconut and oysters. If you are dining or shopping in Old Town Puerto Vallarta you will also be provided with the best views in the world.
Old Town Puerto Vallarta is appreciated when you experience it for yourself. It is one of the most favorite places in Mexico to visit and to live. If you have not visited Old Town Puerto Vallarta, then you should make sure you come soon, so you can see what it has to offer. You will quickly see why many expats choose to live near Puerto Vallarta's Old Town.