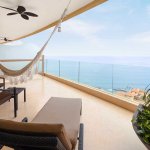 You do not have to be an expert in the real estate industry to see that Riviera Nayarit and Puerto Vallarta have been experiencing an upward movement in the real estate market in Mexico. There has been a lot of construction taking place in the Puerto Vallarta's Romantic Zone that is located close to the Los Muertos Beach and in the Nuevo Vallarta area. All of the developers are noticing this too as they are cashing in with the popularity that is taking place in the sought out areas in Mexico. Local real estate publications are also increasing as their pages are filled with spectacular homes that are excellent homes for all expats in Banderas Bay.
What are the 2018 real estate trends for Puerto Vallarta? Continue to read to find out:
Sales Prices are Increasing
There is no better time than the present to purchase real estate in Puerto Vallarta, Mexico, and you may want to do it before the prices go up.  According to the 2018 real estate trends for Puerto Vallarta revealed by AMPI (The Official Banderas Bay Real Estate Association) average sales prices are appreciating. The closing prices increased 4% from the prior year. This is great news for current property owners in Puerto Vallarta, and for those who are wanting to purchase real estate on Banderas Bay it is a wakeup call.
The AMPI also released additional statistics for real estate trends for Puerto Vallarta that show that the real estate association had $1.6 million in inventory in 2017 and they sold $770 million of that inventory, which equals to 46%. During 2017 the real estate sales increased 36% over the real estate sales in 2016. This is a very strong market that has a 7% list and sales prices.
A condo in Puerto Vallarta had an average sale price of $277,000, and this price is still below the average price of a condo that was being sold in 2007, which occurred before the downturn.
What does this mean for real estate trends for Puerto Vallarta? This means that the real estate market in Puerto Vallarta, Mexico has plenty of growth room and the prices for the real estate will only appreciate.
Banderas Bay and Puerto Vallarta is Trending
It is easy to see why Banderas Bay and Puerto Vallarta has become a trending and popular place in Mexico for expats to purchase real estate. Puerto Vallarta is just 3-5 hours away from all Americans and Canadians homes, and this area is becoming an active expat community that is always welcoming new expats to the community.
The beachfront destinations in Mexico are generally safe. The weather is perfect as it is warm year round and during the winter months the temperatures are still warmer than back at home. The activities that are available year round are fantastic. You can enjoy fishing, golfing, surfing, sailing, shopping, and restaurants. Can you imagine living anywhere else? There is too much to enjoy in Puerto Vallarta, Mexico for expats.