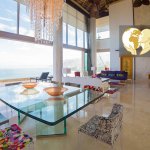 The Grand penthouse suite at the Garza Blanca Resort & Spa in Puerto Vallarta has received high praise and the top accolade which any hotel suite in Mexico and Central America could hope to receive from the World Travel Awards. This impressively furnished three bedroom duplex residence is available for real estate purchase and came out on top of fierce competition from business like Hilton and Four Seasons.
The Grand Penthouse
The Grand Penthouse suite is the crown jewel of this resort, and occupies a blessed position on the mountainside which affords panoramic views of Banderas Bay. This stunning duplex covers 5,000 square feet and has amazing high ceilings and a palapa style roof. Inside the duplex is lovingly decorated and furnished to the highest standard; you will feel completely at home here.
World Travel Awards™
The World Travel Awards™ were established in 1993 to acknowledge and celebrate excellence in all areas and sectors of the travel, tourism, and hospitality industries. Today this is a brand which is globally recognized as the hallmark of success and excellence in the industry.
World Travel Awards™ will be celebrating its 24th anniversary in 24th anniversary year in 2017. The program that will be followed this year is impressive, even for this most prestigious and comprehensive of global recognition programs.
As always there will be a series of regional Galas across the year before a Grand Finale in December 2017. These ceremonies are milestones in the year which draw important figureheads and decision makers from all areas of the industry and media. The winners and sponsors of the program are represented globally on social media over 6 platforms and 10 languages (including Russian, Mandarin, Spanish, and Arabic).
In 2017 the Grand Finale will see regional winners competing head to head in the corresponding world categories. The winners will be announced at the Grand Finale Gala in December 2017.